COMPANY STRATEGY

As a key business unit of RZD Holding, FPC's operations are focused on achieving financial, economic, and volume targets set out in the Long-Term Development Programme of Russian Railways to 2025 (LDP) approved by the Russian Government. As part of the effort to develop the LDP and to ensure the achievement of its goals related to long-distance passenger services, FPC designed a draft Long-Term Development Strategy to 2030 and set up a strategic project management office responsible for monitoring the progress on FPC-relevant strategic goals of Russian Railways' LDP.
Mission
We are improving the quality of life by offering extremely safe, affordable, and comfortable passenger experience.
Vision
FPC is Russia's leader in passenger mobility, being a highly efficient, financially sound, and customer-focused company that strives to enhance value while ensuring sustainable development in passenger mobility across travel classes and regions of Russia as it transitions to franchise contracts for regular rail passenger services.
Russia's leader in passenger mobility
a national carrier providing traditional and high-speed long-distance rail passenger services both in Russia and abroad
the leader by passenger traffic in long-distance transport in Russia
the leader in long-distance ticket aggregation services offering single multimodal tickets connecting rail passenger services across Russia's regions with bus and air transport services at complementary destinations, as well as providing the most convenient range of multimodal route options covering the most popular, key long-distance destinations.
Highly efficient, financially stable company
maximising financial results and ensuring self-sufficiency in operations.
estimated earnings in 2025
Customer-focused company
a leader in service quality in long-distance land transport providing high-quality value proposition and a comfortable long-distance travel experience, including transit connections with other modes of transport and multimodal transport services.
total amount of rolling stock purchases from 2019 till 2025
Socially responsible company
sustainably developing mobility across travel classes and regions of Russia, including operating less technically profitable routes through franchise contracts for regular rail passenger services.
passenger turnover in the regulated passenger transportation segment in 2025
Strategic goals of the Company
According to the LDP, the Company's main focus will be on significantly increasing the average train speeds, developing comprehensive combined transport operations (such as multimodal transport services), increasing passenger traffic on the busiest routes in Russia, and improving the competitiveness of our existing services. The Company will also continue to act as a public carrier, which means servicing single or socially significant routes.
The LDP's key targets relevant to FPC address changes in the transport market, the competitive situation, evolving customer requirements, and development trends in the passenger transport regulatory environment. FPC's Strategy assumes the Company retains its current role within the long-term strategic development programme of RZD Holding.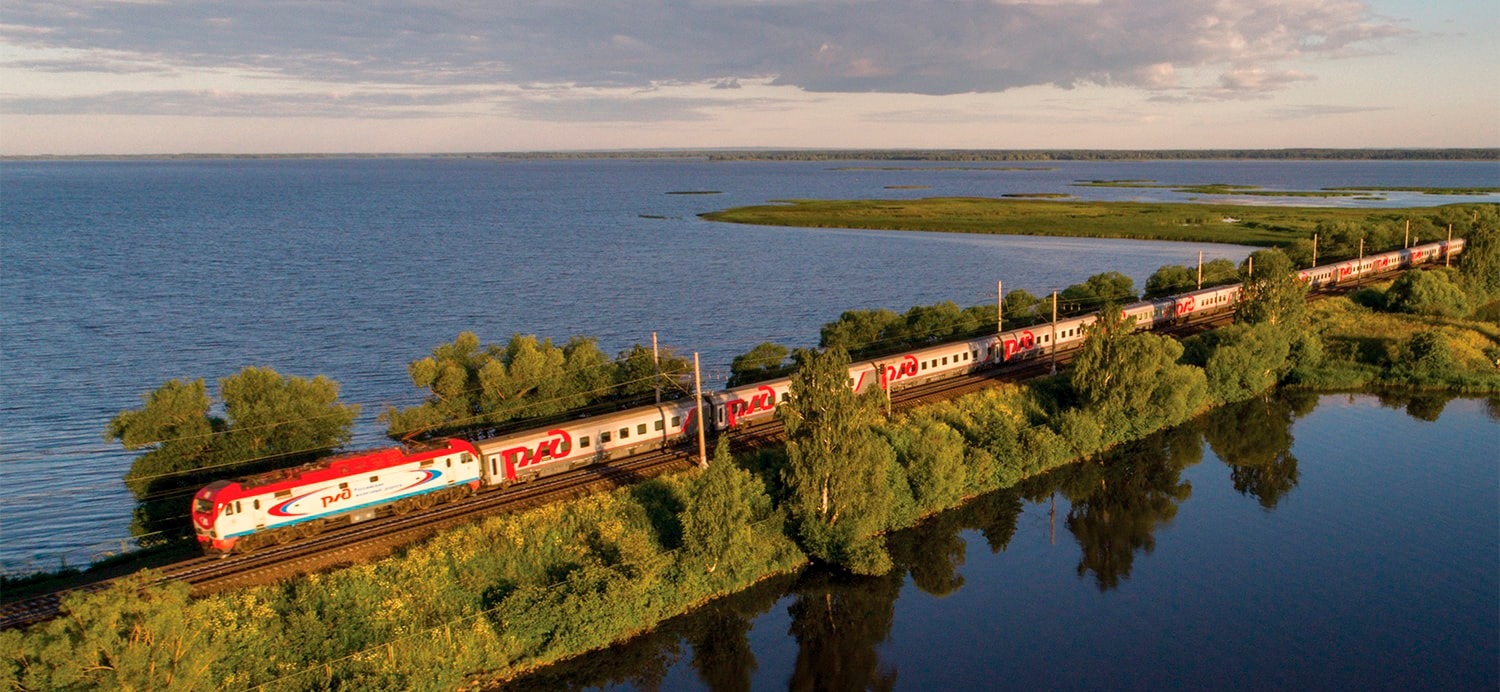 Target performance indicators have been set for the Company until 2021.
FPC target performance indicators
Indicators
2018
2019
2020
2021
Plan
Actual
Plan
Investment volume net of VAT,

RUB billion

44.9
43.9
42.1
45.3
47.9
Revenue,

RUB billion

217.4
226.1
231.7
243.0
256.2
EBITDA margin (incl. subsidies),

RUB billion

22.5
26.8
27.7
33.8
38.7
Federal subsidies,

RUB billion

8.5
8.6
7.7
8.5
8.6
Traffic safety,

incidents per million train km

0.0098
0.0049
0.0064

Including service companies providing rolling stock maintenance services.

0.0063
0.0062
Labour productivity growth rate,

%

105.0
108.5
103.5
101.2
105.0
Passenger km travelled,

billion

88
92
92
93
98
Net profit,

RUB billion

2.2
6.1
5.0
8.3
11.0
Strategic areas of development
Network
Fundamental rail network optimisation is planned:
in the under 1,500 km route segment:

accelerate trains
increase capacity

in the over 1,500 km route segment:

improve efficiency
implement a hub-based model
develop high speed lines.
Fleet
Over 4,400 carriages will be retired from FPC's passenger fleet between 2019 and 2021. To compensate for the carriage fleet shortage, the Company has significantly increased the previously planned investment into rolling stock replacement and upgrades.
5,200 carriages (a third of the total rolling stock) will be replaced between 2019 and 2025. The innovative rolling stock will make up approximately 36% of the total rolling stock by 2025.
The carriages will be purchased under the long-term contract signed with JSC TVZ, valid until 2025 and providing for the supply of rolling stock in four batches:
existing model range (Batch 2018)
new single-decker carriages (Batch 2019)
new double-decker carriages (Batch 2020)
innovative single-deckers and double-deckers (Batch 2023).
The rolling stock will feature an improved carriage design characterised by:
personal space and privacy during rest
spacious accommodation and freedom of movement
low floors for easy boarding and barrier-free environment
dedicated baggage areas
advanced technical equipment
IT-driven development (Digital Railway).
Product offering
The Company is planning transition to a new unified high-quality product offering which includes:
four train types – daytime express trains, night trains, traditional trains, and tourist trains
four service classes – business, comfort, economy, and economy budget.
Multimodality
The Company provides transport services across six multimodal routes. A positive financial result in this segment was first achieved in 2018.
FPC is planning to further grow sales of its multimodal services and improve the performance of its existing routes by:
running a marketing study across the Company's network to identify opportunities within the multimodal segment
developing a ticket aggregation system for various modes of transport
building a programme to launch FPC's multimodal services.
Other types of activities and adjacent businesses
FPC's sustainability will be further enhanced by diversifying its activities as well as developing businesses that improve profitability of passenger services through value-added service offerings:
on-train passenger services
services for travellers across transport modes
logistics services (cargo, mail, etc.).
FPC's target product portfolio